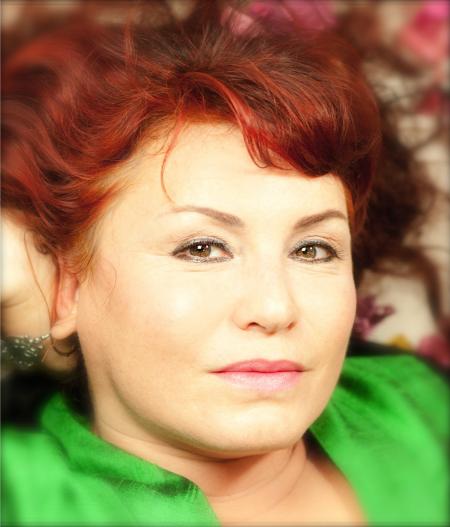 Lorena Fontana, singer, vocalist, composer, born in Formigine (Modena) in 1961.
STUDIES :
At the age of 15 she first took up guitar as an instrument, but she was soon captured by the world of the human voice. Later on she studied piano and composition.
1980 : After her Gymnasium Diploma she made her musical debut in 1984 in the local jazz clubs of a city in turmoil, Bologna, where her name was paired with those of established Italian jazz musicians such as Giorgio Baiocco, Ares Tavolazzi, Jimmy Villotti, Tomaso Lama and Renato D'Aiello.
Between 1986 and 1988 she lived in London and attended the Advanced Course in Jazz & Rock Music at the Guildhall School of Music & Drama, studying with Norma Winstone, Kenny Wheeler, John Taylor, Ian Carr, Brian Abrahams.
Back in Italy in 1991 she graduated in Classical And Operatic singing with Maria Gabriella Munari at the Conservatory of Rovigo and attended Siena Jazz, studying with Bruno Tommaso, Franco D'Andrea, Paolo Fresu, Enrico Rava.
She studied arrangement with Bruno Tommaso and piano on her own. In response to an invitation from altoist Lee Konitz in 1993, she went to NY for a learning experience. Thanks to the hospitality of the jazz singer Judy Niemack she was able to study with Sheila Jordan. Between 1995 and 1996 she completed her classical training with contemporary soprano Dorothy Dorow.
In 1997 she graduated in jazz music from the Conservatory of Trento with pianist Franco D'Andrea.
PROFESSIONAL EXPERIENCE
Blessed with a particularly versatile voice, through the years she had the opportunity to perform a variety of different musical genres including jazz, fusion, pop, rock, gospel, new-age, traditional folk music, celtic music, tango, classical and contemporary music. Lorena gained a wide range of stylistic musical experiences :
1988 : lead vocalist in the group of Mediterranean music "King Solomon's Ring" with guitarists Delfio Plantemoli and Guido Sodo.
1989 : vocalist in the fusion band led by British altoist Geoff Warren, followed by a stint with the minimalist music group Der Bach of composer Marco Lucchi where she started experimenting with improvisation using vocal effects and a wide upper range.
1990 : backing singer on the debut CD of rock guitarist Ricky Portera and worked as a vocalist for producer Dino Melotti in the projects of pop artists such as Marco Masini, Leo Pancaldi and others.
1991 : percussionist and composer Andrea Centazzo introduces her to contemporary classical and new-age music. She was the lead singer on the soundtrack of the movie "Hidden Lens" starring Luca Barbareschi. She sang soprano in the orchestral work "A Bosnian Requiem" and "The Sunken Crypt",
presented at the Two Worlds Festival in Spoleto.
1992 : she took part in the project "Mirrors" by Kenny Wheeler and Tiziana Simona with lyrics drawn from Lewis Carroll's novels and poems by the great Irish poet and dramatist William Butler Yeats with original music by Kenny Wheeler. In the same year she founded the Italian-Danish all-female group, Jazzønde (Cristina Mazza, Cinzia Gizzi, Helle Marstrand, Benita Hastrup) with which she toured Italy with the support of the Danish government.
She performed with Bologna Jazz Orchestra OFP directed by George Russell and in Trento with the Conservatory Orchestra conducted by Henry Threadgill featuring Enrico Rava. She began collaborating with jazz saxophonist Cristina Mazza on a repertoire inspired by free jazz which resulted in the CD "Lanxsatura" and invitations to various festivals including Jazzitalia at Teatro Romano in Verona in 1995.
1996 : live collaboration with trumpet player Paolo Fresu on Iberica project, commissioned by the Nonantola (Mo) City Council, which was presented at Cassero Jazz and later released on CD with the title "Iberian Roots and Vagabond Music". She was a member of the traditional folk music group Viulàn in 1996-97, performing at Folkfest, backing Jethro Tull, at The Sounds of the Dolomites and at the Edinburgh Festival in Scotland. Again in 1996-98 she performed in a duo with harpist Cristina Blarzino performing a selection of Celtic arias in Scottish Gaelic. She sang Celtic music with the Benbecula Celtic Connections and Fool's Abbey (created by the founder of Modena City Ramblers Luciano Gaetani). Since 1990 she has been deeply involved in gospel music. She founded the Afro-American Choral Lab with a large group of her own students, that later became known as the band "Upper and Higher." This band worked with the Italian rock group Nomadi both in studio and live from 1999 to 2003. She sang soprano for the Sounds Virtual Tour Sampletank2 for IK Multimedia.
From 2003 to 2006 she was Italian star Rita Pavone's backing vocalist.
2004 : she released her third CD "Guccini in Jazz" receiving rave reviews from Musica Jazz (I) and Jazz Hot (Fr). In 2005 with C. Mazza she participated for the first time in Woma Jazz Festival in Modena with the Free Nightingales project, a project of original compositions and avant-guarde.
2007: she joined vocal group The Gospel Spirits led by pianist Ivano Borgazzi, holding concerts throughout Italy.
2009 : She performs in Salsomaggiore Terme shewith the WildLotus Trio with Silvia Bolognesi and Cinzia Gizzi and collaborates with Federico Laterza on the CD "Canto de Perdas" by Worldream released by Raitrade
2010 : she represented Woma Jazz, together with Mazza and Claudia Natili, in Luxembourg at "Les Printemps des Poètes", a Festival of Poetry dedicated to the female gender "Couleur Femme".
2012 : she performs at the I° Memorial Tribute for Sergio Catellani - Teatro di Bagnolo (Re) with Sandro Comini, Tullio de Piscopo, John Serry ecc.ecc organized by FlowerTerry prod.
2012 : concert for Latina Jazz Club (LT) accompanied by Federico Laterza trio
2013 : she performs at Zola Jazz & Wine Festival - Zola Predosa (Bologna) "The Jazz Baroness"
2013 : ARTS&JAM Jazz Festival - La Tenda (Mo) "A VISION" cd launch - Lorena Fontana Qt.
2014 : La Feltrinelli Libreria (Mn) "A VISION" cd launch - Duo
2014 : San Cassiano Location (Mortara-Pavia) "A VISION" cd launch - Trio
2014 : La Valigia dei Suoni 9°Ed. (Verona) "A VISION" cd launch - Qt. feat.Michael Rosen
2015 : Salle Beaurepaire (Saumur - Francia) "Jazz Recital" : Lorena Fontana & Christian Boutin
2015 : Modena Jazz Festival - Villa Sorra (Mo) -In Memory of Pippo Casarini - Lorena Fontana guest
2015 : Musica Jazz/December issue - she is part of a cd compilation as a tribute to Frank Sinatra
Lorena Fontana is cited in the following publications :
Tom Lord: Who's Who in British jazz
Roncaglia: Jazz and his time (Feltrinelli)
Fondazione Adkins-Chiti: Women in Jazz 2007
Roberto Franchini: New Italian Jazz (Castelvecchi) 2008
WORDS AND MUSIC
Lorena Fontana has been listed in SIAE (Italian Copyright Society) since 1984. She was amongst the winners of the radio RAI-3 competition Orione in 1989 with her own instrumental piece for voices Hit-Hot. In 2003 she composed the song Mother's Milk Lullaby for the Breast-feeding Campaign of the Health Institute in Rome, whose spokesperson was the Italian actress Amanda Sandrelli. She wrote the ballad "Fallen Angel" performed by Nomadi and included in the following CDs: "The Love you may take, the love you may give" and "Nomadi 40". In 2007 she wrote the song that represented France, "Io gioco" for the 50th Zecchino D'Oro of Antoniano in Bologna. In 2009 she was selected to participate in the International Competition "Invitation to composers," and her composition "The Link" was chosen to be performed by the London Schubert Players from London. Again in 2010 she took part in the Song Festival for Children "Another Star" in Fontanarosa (I) with the song "Il Geko", which placed third.
www.invitationtocomposers.co.uk/sales.html
2013 : She publishes her cd A VISION (published by VIDEORADIO) where she records 5 of her own compositions : MUSIC IS AN ISLE, CINDERELLA, WHAT I'M WORTH, THE FATHER AND HIS CHILD, A VISION