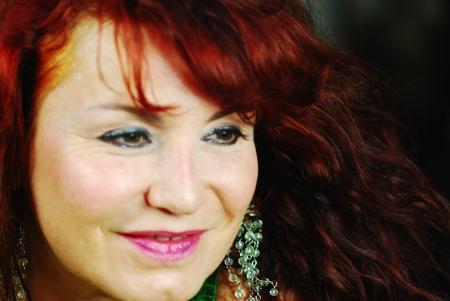 "Through the years I think I became the vocal coach I would have liked to find when I first started my singing training. It is my goal, along with the practical training, to inform and prepare my students while answering their questions, trying to resolve their doubts with an open mind, bearing no judgement or prejudice, and leaving my personal musical tastes aside while being at their complete disposal."
Lorena has been working as a vocal coach and singing teacher for the past 26 years. She began teaching at first just locally, and then in a wider area which eventually encompassed all of Northern of Italy and beyond, training more than a generation of young singers, many of whom have in turn become teachers.
Being a good singer does not necessarily guarantee that one will also be a good teacher. A good singer does not need to know how to teach in order to perform well, but a good teacher is definitely one who, willingly and preferably with passion, shares the techniques of her art with others, deeply motivating and encouraging them.
Accomplishing this requires such skills as the capability to listen, diagnose, cure and direct, in order to focus, drive, improve and amplify the voice as a HOLISTIC INSTRUMENT, a wonderful vehicle produced by the body in which the mind and the spirit are both expressed. Lorena, for her part, is carrying on the tradition of teaching as she was taught, under the tuition of Gianni Guicciardi, pianist and big band and choir director, with whom she studied music theory, solfege and the repertoire of choir polyphony: a great example of the art of teaching.
- 1988/1991 Lorena began teaching for AMC: Association of Musical Culture in Modena.
- 1989 she led jazz singing workshop for AMR Association in Ravenna.
- 1989 she taught a course in choral singing for two years, called the Vocal Ensemble, performing songs from the jazz repertoire with three and four part harmonies.
- 1991 she taught a jazz singing and voice class for Ricordi Music School in Bologna.
-1992/1996 she worked for Modern Music Academy (AMM) in Modena, Piacenza and Verona as a vocal technique teacher dealing with different styles such as jazz pop, soul, r&b, rock and heavy metal. She taught the school's gospel choir and organized a guided improvisation vocal collective.

-1994 she was on the teaching staff of IL PAESE DEGLI SPECCHI in Bologna (whose jazz program received funding from EEC).

-1997/2005 she chose to withdraw from teaching at schools to devote herself solely to her family and her two children, continuing her educational activities only privately. She soon became an extremely sought after vocal coach in her area and nationwide. Her approach has helped many people overcome vocal problems, such as nodules and edema and has led her to cooperate with Phoniatric specialists such as Dr Franco Fussi and Dr Mastria.

- 2005 onwards she is professor of Extra-Classical Vocal Music in the Advanced Training Biennium for Opera singers of "Vecchi-Tonelli" Institute in Modena.

- 2008 Music Education at the Alighieri Primary School in Nonantola.
- -
- 2009/2010 at the High Academy of Singing (Verona) she teaches scat singing and a vocal group working on mainstream jazz repertoire

- 2011/2015 Currently Professor of jazz singing at the Conservatorio Lucio Campiani in Mantua.
PIONEERS OF MUSIC ACTIVITIES IN HER HOMELAND
- 1990 was the promoter of the following activities in Modena:
a) - 1st Course in Phoniatrics and Physiopathology of the speaking and singing voice held by Dott.Andrea Ricci Maccarini from the Department of Phoniatrics' of Cesena Hospital.
b) - 1st Gospel Singing Course in collaboration with the Gospel Academy of Performing Arts in Toronto (Canada) in Vienna Club, Modena and Osteria dell'Orsa, Bologna.
b) - 1st Alexander Technique Course for Performers held by Maya Galai, a representative of STAT (International Society of Teachers of Alexander Technique), former professor at the Acting, Dance, Theater and Music School in London (Guildhall School of Music, Royal Academy).
c) - 1992 she founded and directed the first amateur "Afro-American Choral Workshop" spreading jazz and gospel music culture in her area. From this experience a new choir was generated called "Children of Mornin' Star" that would later be called "Upper & Higher," a professional choir working from 1999 to 2003 with the band Nomadi.
- 2009 she created a Cultural Association called Suoni d'Arte, together with a group of colleagues.
With her technical and musical skills and excellent English, Lorena has worked as an assistant- interpreter alongside great American and British musicians. Just to name a few :
American altoist LEE KONITZ (1988) Bologna - Osteria dell'Orsa
-
American tenor saxophone JOE HENDERSON (1988) R. Emilia - Cepam
-
American guitarist BARNEY KESSEL (1989) Bologna - Osteria dell'Orsa
-
British conductor GRAHAM COLLIER (1990) Modena - Orazio Vecchi
-
American singer BETTY CARTER (1991) Comacchio - Town Hall
- American
Drummer TOMMY CAMPBELL (1992) Modena - Modern Music Academy –
American guitarist BILL FRISELL (1993) Imola - Imola Piano Academy
-
British singer NORMA WINSTONE (1996) Modena – AMM –
American guitarist ROBBEN FORD (2011) Vignola - Stones Club
MUSIC GRAMMAR COURSE - MODENA 2011
VOCAL JAZZ WORKSHOP - VERONA 2010/11
Accademia Superiore di Canto
NORMA WINSTONE MASTERCLASS – 1997 organization of the event in collaboration with AMM and Officine Musicali - Nonantola (Mo)
EXPERIMENTAL VOICELAB – 1996 – Free vocal improvisation
CHILDREN OF MORNING STAR - Gospel Music (1995 - 1999)
GROUP EDUCATION - The Afro-American Choir Lab (1990-1996