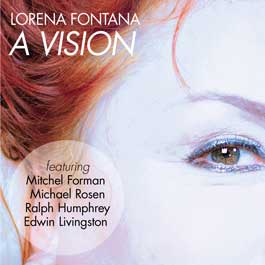 Track List:
01 - Gracias a la vida (Violeta Parra)
02 - Music is an isle (Lorena Fontana)
03 - Two Kites (Antonio Carlo Jobim)
04 - A Vision (Lorena Fontana)
05 - The Maestro (Cedar Walton)
06 - Cinderella (Lorena Fontana)
07 - What I'm worth (Lorena Fontana)
08 - The father and his child (Lorena Fontana)
09 - Estrada Branca (Antonio Carlo Jobim)
10 - Flor de Lis (Djavan)
Recorded by Dennis Moody in Los Angeles ( CA)
at Dennis Moody's Recording Studio January- September 2012
Mr. Rosen 's saxophone recorded by Alex Bagnoli at Alby Studio - Modena ( Italy)
Mixed by Claudio Morselli , Giordano Mazzi and Davide Barbi - Mastering by Davide Barbi
Cover photo by Marta Petrucci - Graphic design by Andrea Minelli
Liner Notes
It is with great pleasure that I agreed to write the following words for the new record of Lorena Fontana, not only because she is a musician of great ability, but also because she is from Modena, as it was for a singer whom I loved dearly, who died too young in a terrible car accident, when Lorena was taking her first steps in the world of music.
A Vision is the fifth album that Lorena Fontana, composer, lyricist and talented singer, recorded in her name. But this, unlike the previous ones , was made ​​in the United States with equally talented musicians such as pianist Mitchel Forman, which we know for the wonderful work with Wayne Shorter, bassist Edwin Livingston , drummer Ralph Humphrey and saxophonist Michael Rosen. With this new work, the singer interprets ten songs with dramatic intensity, five of which are her composition, two by A. C. Jobim, chosen with intelligence in the vast repertoire of the great Brazilian composer and three more by Djavan, Cedar Walton and Violeta Parra, the splendid "Gracias a la vida" that the Chilean singer and songwriter left to posterity in 1966 just before her suicide . "The Maestro" was composed by Walton when the pianist was still part of Art Blakey's Jazz Messengers, but was recorded in a vocal version only in 1975. Lorena's interpretation has that fire that this song requires, though it saddens me that Cedar was unable to listen to this performance because he left us on August 19. I'm sure , knowing him personally, he would have been thrilled. If Lorena Fontana is an excellent singer, her scat chorus in "The Maestro" and in other songs are perfect, as well as her English is perfect, what makes her peculiar and unsurpassed are her skills as a writer. Her lyrics are magnificent, it would take just these few verses :
" Waking to a song of inner calling , sipping from a cup still burning where hopes had been spilled on the floor,
here each cloud is wrapped in silver lining and Gods up above in their silk dresses're dining" (A Vision)
to say that Lorena Fontana, to whom I wish greater successes, is a musician of the most intelligent and sensitive kind always able to arouse strong emotions.
Adriano Mazzoletti